ARCTIC has announced the completion of its Freezer 35 air cooler family. In total, the series includes four versions of the single-tower CPU cooler for different requirements and application areas, the heatsinks of which are identical in construction. The compact dimensions ensure optimum RAM compatibility. Four staggered direct contact heat pipes ensure rapid heat transfer into the heat sink, where the powerful 120mm P fan with dynamic PWM control efficiently dissipates heat.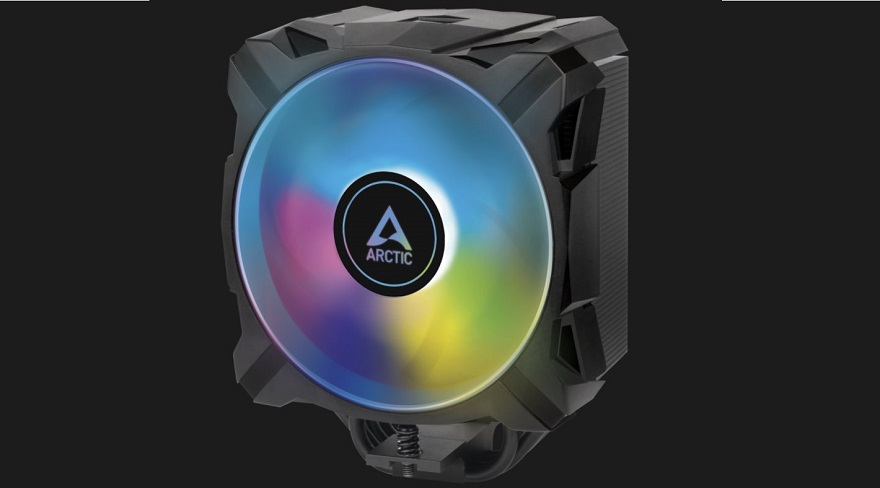 Arctic Expands Freezer 35 Cooler Series
The improved mounting system of the Freezer 35 series with spring screws is remarkable, achieving optimum contact pressure and even distribution of thermal paste. Socket-specific Intel / AMD variants reduce unnecessary mounting hardware and simplify cooler installation. In addition to the standard Freezer i35 / Freezer A35 and already introduced A-RGB models Freezer i35 A-RGB and Freezer A35 A-RGB, RGB coolers for Intel (LGA 1700, 1200 and 115x) and AMD (AM4) join the market . The Freezer i35 RGB and Freezer A35 RGB have 12 analog RGB LEDs in the fan hub. These can be controlled uniformly and are compatible with common RGB standards from major motherboard manufacturers, allowing direct connection through a 4-pin 12V RGB motherboard header.
For continuous operation, ARCTIC offers the proven versions of the Freezer i35 CO and Freezer A35 CO CO cooler with double ball bearings. With this bearing, contamination and high temperatures have much less effect than ordinary smooth bearings and allow reliable continuous operation without sacrificing performance and durability.

Pricing and availability
New variants of the Freezer 35 will be released in early February at a price of around € 33.99 MSRP. – So if you want to know more about these new versions of air coolers, you can check the official Arctic product website (s) via the link here!
What do you think? – Let us know in the comments!